Welcome!
After graduating from the American University of Beirut, in 2011, with a BE in Computer and Communications Engineering, I joined the University of California, Los Angeles, to pursue my life-long aspiration of becoming a Ph.D.
My research interests are Information Theory and Coding Theory, which is why I joined Prof. Suhas Diggavi's Information Theory and Systems Laboratory.
---
Professional Summary
This is just a summary. For my full professional profile, please visit my LinkedIn page, or download my résumé (PDF).
Research Interests
Information Theory
Coding Theory
Other Technical Interests
Communications Engineering
Computer Science

Algorithms, Complexity Theory

Programming
Work Experience
2011-present

Graduate Student Researcher at UCLA

2012: July-August

Research Assistant at EPFL

2010: July-August

Research Intern at German Aerospace Center (DLR)
Education
University of California, Los Angeles

2013-present: Ph.D., Information Theory
2011-2013: MSc, Electrical Engineering

American University of Beirut

2007-2011: BE, Computer and Communications Engineering
---
Personal Information
I was born in Beirut, Lebanon, in 1989. Having grown up there, I am fluent in all of Arabic, French, and English. I attended the International College (from preschool to high school), and then got into computer and communications engineering at the American University of Beirut (AUB). I learned much there from my professors, some of whom highly influenced me. I also joined the AUB Red Cross Club, which was my chance at giving back to the community I grew up in. I finally graduated in 2011, and joined UCLA for my Ph.D. program.
I am an avid user of the GNU/Linux operating system, which is one aspect of my slight tendency to being a computer geek. On a related note, I also enjoy some webcomics, my favorite being xkcd, as I can relate to many of the (funny) situations in the comics, though probably less dramatically (for instance, this one).
My hobbies include:
Arts: acting, music, dancing
Sports: running, swimming, tennis
Chess (challenge me on GameKnot!)
Reading
and generally learning new random things.
---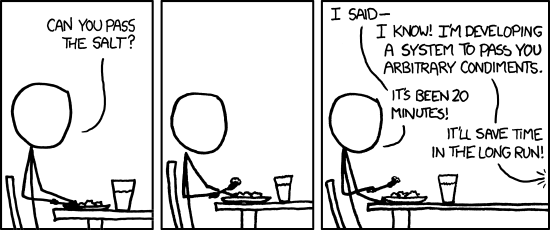 (source:
xkcd.com/974/
)
---