Welcome
The Plasma-Accelerator Group at UCLA continues to have a very strong program on the many possible roles that plasmas might play in future high-energy accelerators. These include:
ultra-high gradient plasma accelerating structures
plasmas for focusing/deflecting ultra-relativistic particle beams
novel radiation sources based on beam-plasma techniques
novel techniques for generating positrons using plasmas
The research program comprises of experiments, theory and supporting computer simulations.



"Researchers Hit Milestone In Accelerating Particles With Plasma"
Published in Nature ( Vol. 515, p.92, Nov. 6, 2014)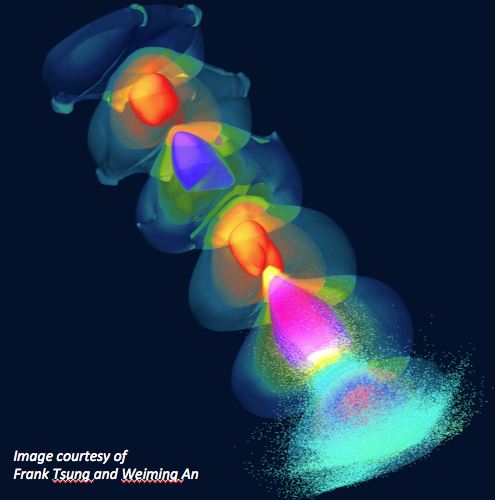 Chan Joshi elected to National Academy of Engineering-read more: Press Release or Daily Bruin

Chan Joshi receives
Distinguished Engineering Educator Award-read more

Joshi Workshop


AAC Plenary Talk


Student Jessie Shaw Wins Best Paper at 2013 NA-PAC Conference



Jeremy Pigeon Wins "Best Student Poster" Award at 2014 AAC

---

Principal Investigator
Professor Chan Joshi
Phone: (310) 825 -7279
Administrator
   Maria Guerrero
   Phone: (310) 206 - 2039
Group Address
   University of California, Los Angeles
   Engineering IV Building, Room 66-147B
   420 Westwood Plaza
   Los Angeles, CA 90095-1594
   Fax: (310) 206 - 8220